North Pole: Journey to the Top of the World
Helsinki, Roundtrip with Peregrine Adventures
Cruise to the top of the world – the North Pole – aboard a special icebreaker ship
Your icebreaker ship, 50 Years of Victory, will take you to a part of the world more commonly associated with fairy tales and folklore—the North Pole. Crushing through multi-year pack ice, the journey can take as long as a week, which only helps to heighten the level of excitement. Celebrate with champagne upon your arrival and soar above the entire Earth on an optional hot air balloon ride.
Join us on this amazing voyage to 90°N aboard 50 Years of Victory.
Note: Weather and other mitigating factors may result in changes to our itinerary and alteration to certain shore excursions. this is particularly important with regard to the flying of the helicopters.
Highlights:
Feel on Top of the World and literally stand on it – reach the pinnacle of Arctic endeavours and the Earth with an expedition to 90 degrees North

Climb aboard a ship that can go where others cannot – crush through metres of ice on the world's largest, most-powerful nuclear icebreaker, '50 Years of Victory'

Float high above the Pole on a unique, optional sightseeing hot air balloon ride

Cruise in Zodiacs to explore remote seabird colonies, seldom-visited landing sites, and to discover historic remains from three ill-fated arctic expeditions

Discover the Arctic Circle's wildlife and wildflowers on Franz Josef Land
Is this trip right for you?
As you'd expect, temperatures in the Arctic are very cold. A warm parka will be provided along with waterproof boots and unlimited hot drinks, but you should also bring base layers and lots of warm clothing. Please see the trip notes for further important information about what to bring.

Weather depending, you will be making regular excursions in a Zodiac boat to explore the local area and look for wildlife. It can get very cold and wet on the Zodiac, so make sure you are dressed appropriately and that you keep your camera safe and dry. Sturdy sea legs are needed as you make wet and dry landings from the boat, and on steep terrain, snow and other uneven surfaces. Some ships have a lot of stairs, so please hold on to the handrails if seas are rough.

The weather plays a pivotal part in this adventure and although there's an itinerary in place, there are no guarantees that you'll be able to do everything that is planned for. A level of flexibility and openness to embracing the unexpected are important in expedition travel, especially to such a remote area.

This trip takes places during the time of year that Spitsbergen enjoys 24-hour daylight. Just one of the benefits of this is that incredible wildlife can be seen at any time of the day – be prepared to be woken at any time so as to not miss out on exciting animal sightings.

Polar bears are one of the most incredible and appealing animals on the planet, but they are also powerful predators with little fear of humans. Therefore it's necessary to be aware of the guidelines surrounding any contact with Polar bears. Follow your leader's instructions and do not stray from your group – your leader carries equipment to protect you.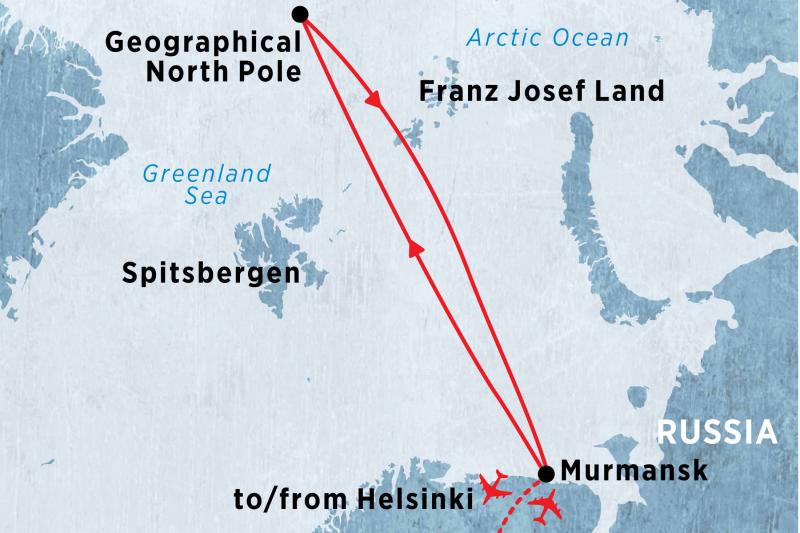 Please note: Price shown is based on departures 17 & 28 June 2020
Travel Dates:
Specific travel dates apply
*per person in a standard twin cabin room
14 days from
$59,565*
Includes
Accommodation - Expedition Voyage, comfortable hotel
Transport: Expedition cruise ship, Zodiac, plane
Meals: 13 breakfasts, 10 lunches, 11 dinners
Included activities as specified
The services of Peregrine's expert English-speaking local tour leader
Bonus
Earn 3,500 Qantas Points on all tours over $1,000
Enquire Now
Terms & Conditions