A Taste of Scandinavia
Copenhagen to Oslo
Original explorer tour with Intrepid
Discover stylish Scandinavia on the ultimate urban adventure.
Do as the locals do on this urban adventure reaching from the bohemian quarters of Copenhagen to the stylish boutiques of Oslo. Explore the cobbled streets of Gothenburg, and nibble traditional cinnamon rolls at a Swedish coffee house, then head out to Vrango Island for some kayaking.
Why you'll love this trip
Explore Copenhagen like a local and hop on a bike. There is no better way to see the major sites, as well as explore hidden corners of this beautiful city.

Don't miss Gothenburg's Haga district, with its picturesque wooden houses and the iconic Skansen Kronan, as well as laid-back Langgatan street.

Take a ferry to Vrango Island, a stunning fishing town in the Gothenburg Archipelago, and discover this rocky nature haven by kayak.
Is this trip right for you?
The areas visited on this trip can be very cold at night throughout the year, especially at the start and end of the season. Please familiarize yourself with what climate to expect, and bring appropriate clothing for adverse weather conditions, including base layers, hat, gloves, scarf, coat and anything else that you think may be applicable.

As accommodation on this trip is twin share, single travellers will share a room with another traveller of the same gender. This trip is a great opportunity to get to know other like-minded people, so embrace it while you can. However, if you'd prefer not to share, a single room supplement is available at an additional charge (some exceptions may apply). Please ask your travel consultant for more details. Also, hotels in Europe often don't have double beds, but rather two single beds that can be pushed together/apart. Rooms in Scandinavia tend to be small, and occasionally bathrooms will be shared with other guests.

This trip is quite fast paced to make the most of your time. We will take you on regular orientation walks, so you'll be on your feet quite a lot. While this may be tiring for some, it's the best way to get your head around a place and to set yourself up for further discoveries.

Please note that on this trip there will not be much time in Norway's capital Oslo. If you would like to explore the city in depth please consider adding one or more additional nights at the end.
Map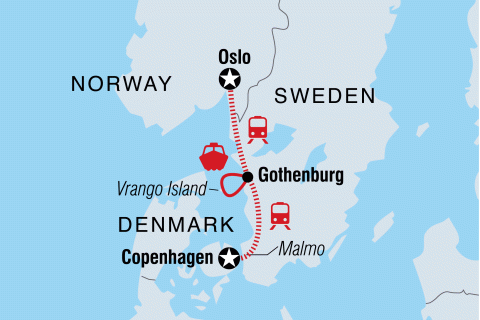 Itinerary
Day 1: Copenhagen
Welcome to Copenhagen. If you arrive early, which is highly recommended, why not visit the pastel-coloured waterfront houses in the Nyhavn area. Drop in at an industrial-chic bar for a drink or stroll around the famous Tivoli Gardens, home to the world's oldest rollercoaster. Another area worth checking out is Norrebro, a residential area known for its wide range of restaurants. Meet your group at 6 pm then head out for an optional group dinner if it takes your fancy.
Day 2: Copenhagen
When in Copenhagen, do as the locals do and explore the city by bike, undoubtedly the best way to explore the city's many hidden corners. The bike-friendly streets mean cycling to the city's major sites are a breeze. Venture into the Freetown of Christiania with a local guide, a self-proclaimed autonomous neighborhood south-east of the city centre. It is regulated by a special law, the Christiania Law of 1989, and has been a source of controversy since 1971 when squatters took over a former military area. The afternoon is free for you to further explore this Scandinavian city. Stroll along the harbour or head out to the classicist palaces of 18th century Amalienborg, to this day the main residence of the Danish Royal family. Perhaps pay a visit to Frederik's Church, also known as Marble Church, the Court House on Nytorv Square or check out the facade of the red brick town hall. Alternatively, the National Museum is not to be missed, nor is the Christiansborg Palace in the very centre of Copenhagen.
Day 3: Malmo / Gothenburg
A morning train ride will get us to Malmo in Sweden, via the famous Oresund Bridge that spans the strait separating Denmark and the Scandinavian Peninsula (approx. 1 hour). Malmo has gone through somewhat of a transformation, or should we say revival, over the past twenty years thanks to the construction of the Oresund Bridge and the opening of Malmo University. Now, a city once reliant mainly on shipbuilding is growing steadily with architecture firms, IT companies, students and start-ups. Just under half of Malmo's population is under the age of 35, so it really now is a progressive city that knows how to have fun. Spend some time checking out the Old Town, the castle and the harbour, then continue on to Gothenburg (approximately 3 hours) where you'll spend the night.
Day 4: Gothenburg
Today is a free day for you to enjoy all that Gothenburg has to offer. Perhaps embark on a cruise this morning through Gothenburg's many waterways, passing the opera house, the famous fish market Feskekörka, and the old docks. Or visit the Göteborg City Museum, housed in the former East India Company House and built during the time when Gothenburg's role was that of a major maritime trading centre. Take in the architectural ensemble on Gustav Adolfs Torg, go shopping along the main boulevard Avenyn, check out the iconic Skansen Kronan, stroll along bohemian Långgatan street or sip a coffee in the charming Haga quarter, known for its picturesque wooden houses, 19th century atmosphere and the so-called hagabulle, a cinnamon pastry similar to kanelbulle.
Day 5: Vrango Island / Gothenburg
Catch an early-ish ferry from Gothenburg to Vrango Island, approximately one hour and 20 minutes away. Vrango is the most southerly island of the Gothenburg Archipelago, with a permanent population in the low hundreds and a strong fishing industry. The island is known for its stunning beaches and protected nature reserves and you'll explore the coastline in an included kayaking activity. In the afternoon, enjoy some free time strolling around the town or maybe try an optional floating sauna, before returning to Gothenburg for a free evening.
Day 6: Oslo
Catch a morning bus across the border to Norway's capital Oslo (approx 4 hours). Your leader will take you on an initial orientation walk so you get a first taste of this quirky, colourful city. It's definitely worthwhile to spend the day perusing delicacies at Maschmanns Food Market, admiring the handiwork of glass blowers at the Hadeland Glassverk, or simply strolling along Karl Johans Gate, the main shopping strip of the city, or head to the National Gallery of Art to glimpse Edvard Munch's famous 19th century painting, The Scream. In the evening say 'skal' ('cheers') to the group at your last dinner together. Why not seek out some traditional Norwegian fare based around cod and mackerel dishes.
Day 7: Oslo
Your trip ends today after breakfast and you can depart your accommodation at any time. If you would like to extend your stay in Oslo please speak to your travel agent at the time of booking as we will be happy to book additional accommodation for you (subject to availability).
Please note: Prices are based on low season travel - seasonal surcharges apply
Travel Dates:
Specific travel dates apply
*per person share twin
7 days from
$2,750*
Includes
Accommodation - Hotel (3 nights), Pension (3 night)
Meals - 6 breakfasts
Transport - Train, Public bus, Metro, Bicycle, Boat
Included Activities - Copenhagen Bike Tour, Sea Kayaking on Vrango Island
Tour Type - Original
The services of an Intrepid local leader
Enquire Now
Terms & Conditions